Let's be honest … digital fundraising was extremely difficult in the 2022 cycle in a post-Trump campaign world.
Between nationalized fundraising, dishonest tactics, and intrusive over-sending of emails and SMS, we knew we had to build something different.
For Alaska Governor Mike Dunleavy's reelection campaign, we built an honest and transparent fundraising operation while tackling many other challenges:
A Historical Challenge – No Republican governor had served two consecutive terms in 44 years.
A Formidable Opponent – We faced a formidable challenge from a former Governor with a similar name ID, access to donors, and a somewhat influential ground network.
Ranked-Choice Voting – AK implemented ranked-choice voting for the first time in the state's history, creating a challenge for candidates across the board and adding a voter awareness and education component.
2018's Limited Fundraising & Data Operation – Gov. Dunleavy's first election did not have a large, organized small-dollar fundraising effort.
A Polarized Climate & Electorate – National politics, a hotly contested U.S. Senate race, a crowded special election, and a polarized electorate created a messaging challenge for the campaign.
Before joining the reelection team, we worked with the state PAC, Keep Dunleavy, which focused on raising funds and statewide messaging to thwart the well-funded recall effort against the governor.
Through our aggressive outreach, branding, and persuasion effort, we were able to help stamp out the recall effort early on. Our quick responses by email and show of strength with a broad donor and supporter base helped raise close to $100,000 over 5 months through small-dollar asks and we earned an opportunity to work with the Dunleavy team for his reelection.

As a Republican fundraiser for more than 10 years, I knew we had to go back to the basics and focus on the campaign's net dollars raised and our relationship with donors to keep them invested and not turn them off with dishonest and scam fundraising tactics.
We created an honest and transparent program tailored to Dunleavy's conservative record, message, and second-term agenda. This included a full-scale, small-dollar fundraising operation that included a mix of direct mail, email, telemarketing, and text messaging.
The key to a successful direct-response digital fundraising operation is constant collaboration between the programs. Monthly touch-base meetings for vendors, in-sync messaging, and data-sharing proved to be extremely successful for the campaign.
Our advice and plan were to stick to the issues, keep the outreach local, and any mention of national issues would be tied back to the voters in Alaska. Our goal was to utilize and expand our current Alaska donor base with personal messaging. We did not want to nationalize this race where the closest neighboring state is about 2,000 miles away because our focus was hyper-local issues and targeting.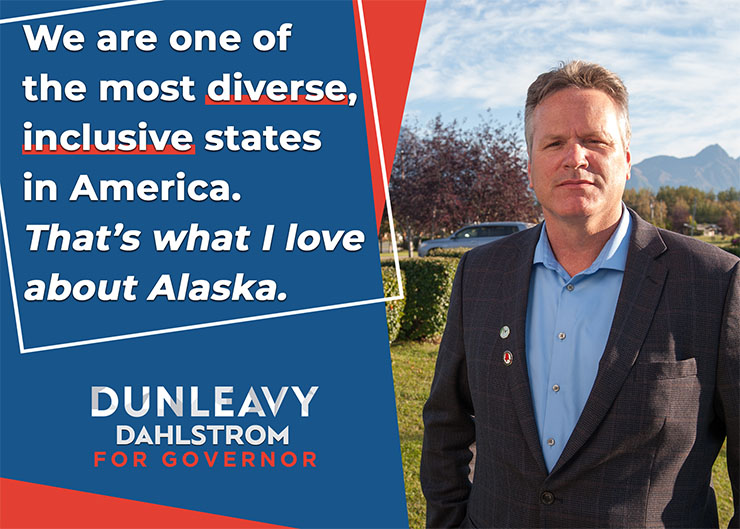 We chose not to utilize dishonest language or tactics where donors may have accidentally and unknowingly donated more than intended or with:
Pre-checked future donation buttons or opting-in to pay transaction fees
Countless upsells
One-click automatic donations
Instead, we chose to:
Find the right sending cadence without over-asking our supporters
Forgo false percentage matches or donation multipliers
Use honest & transparent language when asking for money
Not send further communications once a user opted out
Personalize each message from familiar senders
We aimed to send more realistic appeals and asks that looked genuine and always let the donor or prospect know whom the communication was coming from. A more personal message always saw more donations and engagement.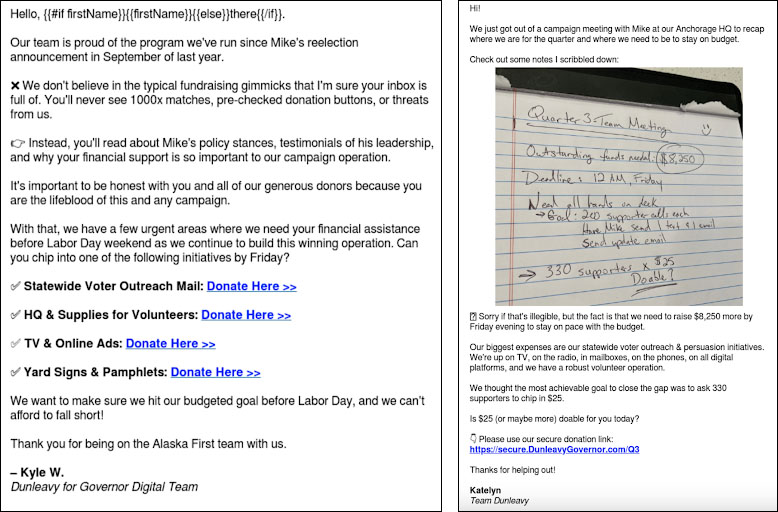 The Results:
Governor Dunleavy was able to defy the odds to become the first Republican to be reelected in 44 years, while also skirting the ranked-choice voting tabulation by receiving more than 50% of the vote in a 4-way race.
Our small-dollar fundraising efforts brought in close to $500,000. Thanks to our honest and transparent program, our refund rate was extremely low at .003% of all donations. True to our fundraising roots, we focused on the net dollars for the campaign and our cost of fundraising was below average at 45%.
Our digital fundraising content was dynamic, unique and personal. We kept it focused on the issues that Alaskans cared about and connected with them on a local level to deliver a hugely successful small-dollar program.
---
Contact Arena's fundraising team to elevate your campaign and let us help you reach donors the right way, or, check out more case studies.